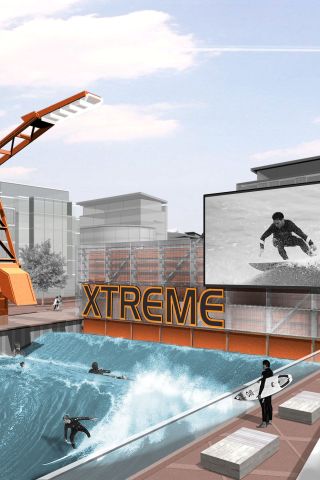 The Challenge
Silvertown (London docklands) was a unique private sector regeneration project centred around 15 acres of water, major new public spaces and anchored by a world class aquarium (Biota). Venture Xtreme Consultancy was asked to come up with an adventure concept that supported Biota, encouraging visitors to 'stay all day,' whilst making use of and animating the dock water.
Our Approach
VX designed the world's first dock surfing wave, up to 2m high and travelling 130m before breaking on London's first all year beach.
In addition to the surf centre, a major dock side unit was designed with a climbing wall, ice wall, indoor surf wave, children's snow room and a scuba diving tank 25m deep. All supported by a wide variety of specialist retail units, bars and restaurants and a 100 bed sports hotel above. This mix was designed to deliver the required commercial returns.
The Outcome
The concept was enthusiastically received and was ranked as London's #1 most iconic project by Time Out magazine, in their 40th Anniversary edition, ahead of the London Olympics! Sadly the project itself was ultimately a victim of the credit crunch but the concept has been followed in subsequent surf park development.